UPDATE: Thank you very much Wendy Bell for inviting Cedric onto your radio show today! We've already gotten a bunch of additional signatures on the petition. We really appreciate all the support from you and your listeners! In case you missed the interview, following is a link to Wendy's show queued up to her chat with Cedric.
ORIGINAL POST:
We're pleased to announce that popular conservative talk show host Wendy Bell has invited Cedric to be a guest on her show this Friday, October 29, around 11:30am. Mark your calendars if you want to listen or watch live; otherwise, you can check out the recorded livestream later.


Listen to the live broadcast on the radio via WRTA Talk Radio 98.5 FM (Altoona, PA) or online at https://streamdb9web.securenetsystems.net/cirruscontent/WRTA.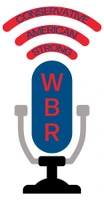 Watch live on YouTube at https://www.youtube.com/channel/UC-sjf6fkaIyJ7tPA3mBwT2w or Facebook at https://www.facebook.com/WendyBellRadio/.